Country Roads of Bavaria, Switzerland & Austria - with Oberammergau, Classic Group, 2022
Booking Dates
01/01/2022 through 09/13/2022
Travel Dates
01/01/2022 through 09/26/2022
Provider
Insight Vacations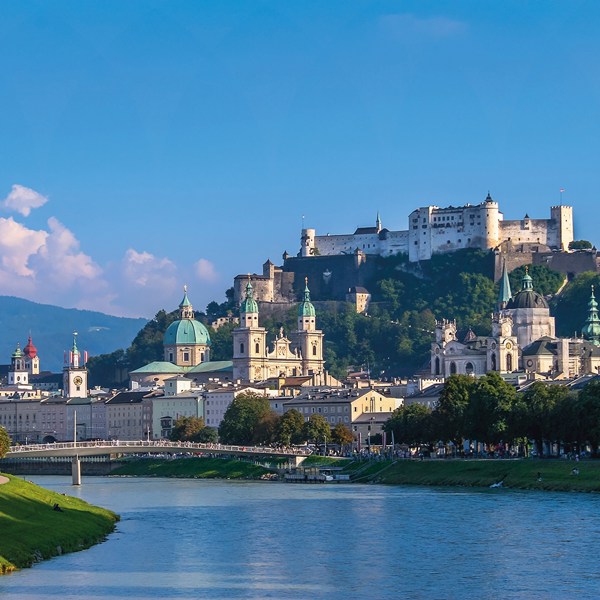 Country Roads Of Bavaria, Switzerland & Austria – With Oberammergau, Classic Group, 2022 With Oberammergau Classic Group
From the famed beer taverns of Munich to the Disney-inspiring turrets of Neuschwanstein Castle among the Alps, this 11-day tour will delight and awe. In Switzerland, a funicular transports you from the scenic shores of Lake Lucerne to a mountaintop Stanserhorn Dinner, at the roof of Europe. Enjoy a delicious meal at 6,000 feet, with stunning views from the Drehrestaurant Rondorama, which slowly rotates to ensure you don't miss a thing. In Austria, explore Vienna with a unique Insight Choice to tour the many treasures contained within the Schönbrunn Palace, or a stroll through the immense grounds and gardens-with unique insights from a Local Expert. Explore the quaint village of Oberammergau as it springs into action for the once in a decade Passion Play with included premium tickets to the world famous performance. A journey aboard the Glacier Express offers vistas of ice capped mountains, dramatic valleys and frozen waterfalls.


Choice Highlights
Choose between two carefully selected activities
Vienna: Listen to the musical masterpiece of Mozart and learn the Viennese Waltz, in an inclusive workshop designed to support the visually impaired community. Unique to Insight Guests, 'Dancing without Barriers' takes place in the dark, in a specially designed sensory studio, and will be a unique experience for all your senses. This specifically designed workshop focuses on inclusion and education around the topic of visual impairment. Through their foundation the organisation supports children from disadvantaged family and children with a visual impairment. This experience advances UN Sustainable Development Goal 10: Reduced Inequalities. Alternatively, tour Schönbrunn Palace and marvel at its frescoed ceilings, crystal chandeliers and gilded ornaments.
Vienna: A private, guided exploration of Schönbrunn Palace will have all your senses tingling. Stand beneath frescoed ceilings, crystal chandeliers and gilded Rococo frames where Mozart performed as a child prodigy.
Well-being
: Our Well-Being Directors take a proactive approach to your welfare ensuring all well-being regulations are met (available on tours with 21 or more guests).
: Enjoy the comfort of Insight's luxurious, air-conditioned, 40-seat coach with double the standard legroom and onboard washroom. Our customized luxury coaches are sanitized before the start of your tour and are maintained to very high standards. Physical distancing measures have been implemented on our customized luxury coaches.
: Experience enhanced hygiene protocols to align with the latest guidance following COVID-19.All Travel Directors, Well-Being Directors and Drivers have completed training in enhanced well-being and hygiene protocols.
: We only work with establishments we are confident will consistently adhere to our high well-being standards, which include hotels, restaurants and sight-seeing venues.
: Hand sanitizer is freely available on board for you to use throughout the day.
Travel Director
: "One thing I really love about showing guests Eastern Europe is the rich history and culture of places that have previously been impossible to visit due to political situations."
: "Munich is the capital of beer, so taking guests into the famous Hofbräuhaus, at any time of year, gives them a small idea of what it's like to attend Oktoberfest."
: "It's magical to see how a group of guests comes together over the course of our trip. I can always tell when that's happening because suddenly the enthusiasm is palpable."
Top Rated Highlights
Munich: During your orientation of the city with your Travel Director, see Feldherrnhalle in the Odeonsplatz, the Palace of the Dukes of Wittelsbach, the English Garden, the Hofbräuhaus, St. Peter's Church and the famous Marienplatz.
Neuschwanstein Castle: Visit the archetypal fairy-tale castle that allegedly inspired many of Walt Disney's castles. Led by a local historian, walk through the magnificent halls, take in the lavish decoration and enjoy spectacular views.
Salzburg: Join your Local Expert to visit the formal gardens of Mirabell Palace and Residence Square – both locations used in 'The Sound of Music.' You will also see the imposing fortress, the immense cathedral and Mozart's birthplace on the lively Getreidegasse.
Vienna: A private, guided exploration of Schönbrunn Palace will have all your senses tingling. Stand beneath frescoed ceilings, crystal chandeliers and gilded Rococo frames where Mozart performed as a child prodigy.
Vienna: During your orientation led by your Travel Director, travel along the Ring Road to see the Hofburg Imperial Residence, Opera House, Parliament Building and Karlskirche.
Kindberg: During your orientation see the colourful maypole.
Villach: During your orientation learn about this historic town.
Innsbruck: Enjoy an orientation with your Travel Director as you walk the narrow streets of the Old Town, lined with medieval houses and arcades, to see the Golden Roof.
Oberammergau: Experience the spectacular Passion Play that has made this town famous. Watch from your premium seat as local villagers perform as they have since 1634 in this once in a decade event. An emotive and critically acclaimed performance depicting Christ's last days, this is an event not to be missed.
St Moritz: Travel along the route of the world-famous Glacier Express, through looping tunnels and dizzying viaducts, in the scenic heart of the Swiss Alps, on a regional train fully powered by hydroelectricity.
Lucerne: During your orientation with your Travel Director, see the emotive Lion Monument, Jesuit Church and Chapel Bridge.
Stanserhorn: Journey to th…

| Day | Description | View All |
| --- | --- | --- |
| Day 1 | Welcome to Fun-Loving Munich | Details |
| Day 2 | Jewels of the Bavarian Alps | Details |
| Day 3 | The City of Mozart and on to Vienna | Details |
| Day 4 | Vienna and the Habsburgs | Details |
| Day 5 | Sleepy Austrian Byways to Villach | Details |
| Day 6 | Pass the Dolomites to Innsbruck and Oberammergau | Details |
| Day 7 | The Passion Play Relaxed Start | Details |
| Day 8 | Through the Alps to Switzerland | Details |
| Day 9 | All aboard the Glacier Express and on to Lucerne | Details |
| Day 10 | Dinner at the 'Roof of Europe' in Stanserhorn Relaxed Start | Details |
| Day 11 | Leave Lucerne for Zürich | Details |